Here is goodnews for free internet browsers

.
The network service providers keep on upgrading their firewalls, new and stronger softwares for free internet browsing are now on board for both zain and mtn which will allow you bypass the ISPs firewalls. capable of allowing you to surf the internet free of charge for hours without interruption. to learn how you can get any of these softwares and get your computer connected to free stable internet which remains uninterruptible for hours with increadible speed. rush now to http://free-internet-world.blogspot.com or simply
click here
and be among the few lucky people. for the latest settings for your-freedom client used for free internet browsing for different networks, don't waste time to
click here
and begin to enjoy your stay with your computer uninterruptible free internet browsing.

Hi my friends, you must be very lucky to have visited this eworld, where w
e gonna be learning how to watch the DSTV channels on the computer free of charge.
It has been discovered that you can really watch the DSTV channels free of charge on your computer. Oh men! That's amazing; don't you think so? The let us proceed on how to achieve this.
How it works:
It is all about a whole new special software that has been programmed for this purpose.
Before I continue, I would like you to note that this is not online tv as you might have known that some websites offer free watching of some television channels from their site. But most at times, what those channels broadcast are not matters of interest especially to those in this part of the world.
However, the free DSTV software is a software that when installed in your computer and correctly configured with settings, you will be able to watch the DSTV stations live in your computer free of charge. Channels like ESPN, super sports 1-10, African magic, ITV, AIT, eTV, MTV base, cartoon network, setanta, NTA, CNN and many many other marvelous channels the DSTV offer. (Of course, you know the DSTV channels. So there is no need enumerating the numerous channels here).
There will be no need for a DSTV disc or a decoder. No tv card will be required to be inserted into your computer and no payment for subscription.
Someone might be tempted to ask me how the software will gain network access if it doesn't a disc, decoder or even any sort of antenna. It would be a very good question but here comes the answer: you will be required to connect a gprs enabled mobile phone to your computer through Bluetooth connectivity or a usb cable. ( don't worry about the connection, it won't be a problem at all, just read on.
One of the most awesome features of this software is that it can allow you to save any program being broadcast live in your computer for you to watch later. For example, a football match you don't want to miss is going on live and you are expected to be attending to one kind of business or the other; no cause for alarm! What you will do is just to save the broadcast and watch it any time later at your own convenience. Is that not wonderful? It's up to you.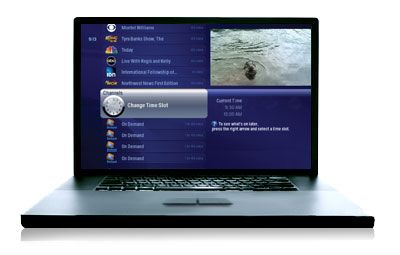 What is required to get started:
- A GPRS enabled mobile phone

(optional)
- The phone must possess
either usb cable connectivity or Bluetooth

(optional)
- A computer set

- A stable internet connection


(

click here

to get your computer connected to a free stable internet)
- The DSTV software.

How to make it happen:
Step 1:
Get a gprs enabled mobile phone that has either a usb cable connectivity or Bluetooth connectivity.
Step 2:
with the help of the mobile, connect your computer to the internet.
any type of internet connection can do it; (dial up or broadband...)
if you don't have internet connection running on your pc, you learn how to configure free internet on your computer by
clicking here
.
Step 3:
Install the DSTV software in your computer. Open it and configure it with the settings.
You can find many of the DSTV softwares at this link. Click DSTV Download.
Gogglebox TV software can be downloaded here: Gogglebox TV software

Else, you may have to order from this guy whose information appears below. He will send you the software and the settings
When you have successfully completed the above simple steps, you will now begin to watch the any of the DSTV channels you want 24/7.
THE COST FOR THIS SERVICE IS

N4,500

for the first few people to place their order.
Rush now and place your order while offer lasts.
So if you are interested in getting
the software

,

its settings

and

the e-manual
that comes with it for guidance plus some bonuses,
You will pay the sum of
N2,500
into the account number that will be sent you when you request for it by calling me
08063669662
or sending email to
macdoncjoe@yahoo.com
(cost negotiable depending on how many packages you are getting from me)
Then when you pay, you text the
slip number
you used in making your payment,
your name
,
amount you paid
,
the service you paid for
and your
email address
to this number:
08063669662.
After confirming your payment with the bank credit alert, I will send you the package through your email as attachment within minutes. You will now download the attached files from the mail, install the software on your system, follow the instructions inside the manaul to set it up and begin to enjoy yourself.
You can contact him on
08063669662
for any clarifications or further talks.